Bringing Back Meaning into Our Lives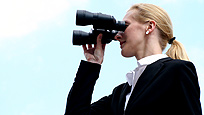 There's a deep longing that stirs beneath the surface of our lives—the desire for our lives and work to matter, for there to be true meaning in who we are and what we do. How do we bring this meaning into our lives?

Slow down and stop your crazy deadlines.
When we slow down, we see meaning in everything—a gesture, an animal, a sunset. Stop looking at your watch or your age for direction. There's another part of you, your intuition, that knows what really matters and can offer you peace, tranquility and wisdom. People who reach their goals and find true meaning in their lives give themselves twice as long and don't base their lives on a few numbers.

Know why you do what you do and you will have a sense of purpose and direction.
When was the last time you asked yourself a deeper question: Why am I here? What matters? What's a good use of my time? When you are constantly learning, questioning and growing, rather than trying to keep everything the same, life feels full of meaning.

Surround yourself with people who are motivated and meaningful to you.
The biggest influences on your life are the five people you spend the most time with. Who are your five? Are they optimists or complainers? Do they want you to change, or do they try to keep you the same? Write down and share your plan of action with others, consciously surrounding yourself with the people who will hold you to your new standard.

Read more ways to bring meaning back into your life here.
Posted: 9/13/10