The Truth About Green Products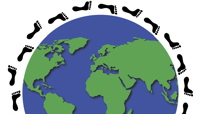 The biggest misconception about the green industry is that every product that says "green" is actually green. "There is very little oversight of the industry," explains Lawrence "Axil" Comras, creator and founder of Greenhome.com. "People assume just because [a green product] is sold that it has passed some kind of inspection or review process, and that's not true."

With cleaning products, Comras suggests looking for the highest percentage of organic ingredients. When shopping for other items, look for a certification mark given by a trade association. He gives a few examples: "If you buy a carpet, look for Rugmark, which lets you know that the carpet has been made with sustainable materials and fair labor. Green Guard is a new label that deals with…indoor air quality. And, paint products and related products can carry the Green Seal label."

In the end, says Comras, the way someone uses a product is just as important as the product itself. "Overusing even eco-friendly laundry detergent and washing everything in hot water all the time isn't green," he points out. "Green is much more about the how than the what."

To receive 30 FREE daily tips on Creating a Green Home, click here and then click the Yes button.

Posted: 6/8/10