Top 5 Ways to Fill Your Empty Nest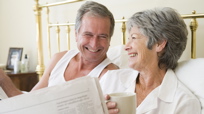 Becoming an empty nester gets easier when you look at it as an opportunity to learn more about yourself, improve relationships and start a new chapter in your life. Here are five things you can do to help ease the transition:

1. Set up a schedule.
Before your child leaves for college or a first apartment, decide how often he or she (and you) will call, email, visit and so on.

2. Acknowledge your feelings.
Experience and accept your emotions about your child's departure. Share them with your spouse, and listen without judgment to his or her feelings. If you're a single parent, share your feelings with close family members or friends.

3. Rediscover your mate.
Schedule regular dates and take advantage of the chance to have meaningful conversations without distractions! Take a second honeymoon. If you're a single parent, now may be a good time to consider dating again.

4. Explore new opportunities.
Research that new career, educational degree, hobby or volunteer work you've been thinking about. Now you can actually consider doing these things!

5. Enjoy your friendships.
Renew old friendships and reconnect with relatives. Be open to meeting new friends at the gym, an art class, the library and so on. Look for an empty nest support group in your neighborhood or online.

To receive 30 FREE daily tips on Your Empty Nest, click here and then click the Yes button.
Posted: 6/3/10