Want More Money? My Change Nation Interview with John Assaraf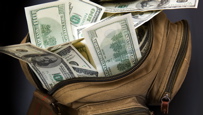 Just because you can't afford to buy companies or invest in real estate doesn't mean you can't start making more money. Entrepreneur, John Assaraf, author of The Complete Vision Board Kit: Using the Power of Intention to Achieve Your Dreams, shares three steps that anyone can take right now to achieve greater wealth:

1. Have a long-term perspective. Rather than looking at the marketplace and running the other way, start off with the right vision of what it is you want. Where do you see yourself in 12 months, in 24 months, in 3 years?

2. Have the right beliefs. What beliefs do you need to have about yourself and the economy to make your vision become a reality? Beliefs are nothing more than either declarations or feelings about what's possible and what's not.

3. Take action. You've got to move towards what you want. If you're sitting there paralyzed, you're never going to achieve your goals and your dreams. What skills do you need to learn? What knowledge do you need to accumulate? What plans can you put into place to really start moving towards your vision?

Listen to my entire Change Nation interview with John Assaraf.
Posted: 6/4/10