Write Your Way to Success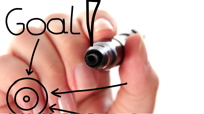 People who write their goals on paper will actually accomplish some, if not all of them. Words "provide a great deal of renewable energy to help us create whatever we desire," says Kathi Burns, author of How to Master Your Muck ~ Get Organized. Add Space To Your Life. Live Your Purpose!

As you visualize each new goal and its end result, lay it out step-by-step in your mind, writing down everything you see on a piece of paper. Keep it simple, but include as many details as you imagine.

Burns tells of a friend, Kevin, who always kept a list of 10 definitive objectives that he could achieve within a seven-year period. "If I didn't reach some goals…they rolled over into the next period," he told her. "I had this Ferris wheel of hope and desire that always seemed full of ideas." Some of Kevin's accomplishments include getting his green card without an attorney, hiking the Grand Canyon three times and meeting his childhood hero, Muhammed Ali.
"The largest successes in the world often begin with thoughts, which turn into words and then manifest through actions," Burns reminds us.

Read Burns' entire blog post.
Posted: 5/23/10