World-Champion Fitness Expert Shares Her Secrets!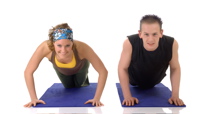 The biggest difference between you and a fitness expert is your level of determination. San Diego City firefighter and world-champion adventure racer, Robyn Benincasa, offers these tips for keeping motivation high on your path to fitness success:

- Find people to play with, even if it's just once a week. There's something about being with a group that makes you want to go. Visit the local bike shop and ask about easy group runs. Look up local clubs. Regardless of the sport, there's a level for everybody. You just have to find it.

- If you can't get out of bed or do your workout today, don't beat yourself up. Tell yourself, "I don't feel like running today, but I'll go for a walk." Just walking out the door, even just going to the end of the driveway and back, gives you a different perspective.

- What your mind believes, your body will follow. Are you a guy who works in an office, or are you an athlete who works in an office? Before any change can be made, you need to believe.

To receive 30 FREE daily tips on Living Healthier, click here and then click the Yes button.

Posted: 5/12/10