Lose Weight by Eating Breakfast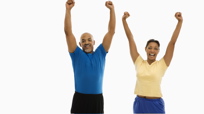 If you're trying to lose weight, don't skip breakfast. You're more likely to drop those extra pounds (or stay slim) if you start your day with food. Science freelance writer, Matthew Denos, Ph.D., explains why:

1. Breakfast-eaters eat less overall.
Studies have found that people who eat breakfast actually take in fewer calories over the course of the day.

2. Skipping breakfast leads to high-calorie cravings.
An interesting new study has found that skipping breakfast actually leads to changes in brain activity that make you crave higher calorie foods.

3. Fasting increases your insulin response.
Prolonged fasting can prompt your body to increase insulin levels, which increases fat storage and your likelihood of gaining weight.

4. No breakfast equals less energy.
When you skip breakfast, your body doesn't have the fuel necessary to replenish glycogen, which is stored glucose released when glucose levels drop overnight. Less energy means less exercise.

Is there an ideal breakfast for weight loss? "Studies have shown that people who eat breakfasts rich in carbohydrates tend to have a lower BMI than those who skip breakfast or eat a high-protein breakfast," says Denos.

Read Denos's entire blog post.
Posted: 4/3/10