Your 4-Part Guide to Life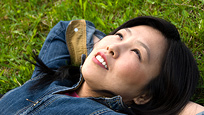 When at the age of 40, Garth Sandiford left the financial security of a major corporation to become a relationship coach, he relied on nothing but blind faith and these precious gifts of wisdom from his grandfather:

Part 1: Trust God.
No matter what is going on in life when it comes to fear or uncertainty, put your trust in God or a higher power.

Part 2: Be of Service to Others.
There is no greater honor or gift than to be of service and make a difference in someone else's life.

Part 3: Be Proud.
Believe in yourself and don't try to be like someone else. Celebrate your uniqueness and don't be afraid to let others know who you are.

Part 4: Be Humble.
Don't let your ego put you on a pedestal. Be the same at all times, whether you have $100 or $1000 in your pocket.

When you find your faith, suddenly, jumping off of that cliff doesn't seem so scary. "I have grown in ways that I couldn't have imagined," says Sandiford proudly "and my life is fulfilling beyond my wildest dreams."

Read more about Sandiford in our Profiles of Change gallery.
Posted: 4/4/10