Living in an "And" World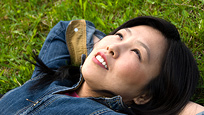 We don't live in an either/or world any more. People tend to think that they have to make choices, as in, "I can either have meaning or money," or "I can either have ambition or a relationship with God." But, as I mentioned in a recent interview with Katana Abbott on Smart Women Talk, we are really in an "and" world. Not just women, but men, too.

You can have more than one job. You can live in more than one place. And you can certainly be on a spiritual path while fully functioning in the real world. You don't have to move to Santa Fe.

My next book, which I am well on the way to finishing, is all about how to have a foot in both worlds. In other words, how do you commit to a spiritual path, whatever it might be, and also have a foot in this world of work, of money, of relationships and of love? I want people to know that you don't have to give up one to have the other.

Listen to my entire Smart Women Talk interview. And, of course, you'll be the first to know when my next book is available!
If you have any thoughts or comments on this subject, please write to us below
customerservice@first30days.com

Posted: 3/7/10