Heart Disease Diagnosis? Consider Yourself Lucky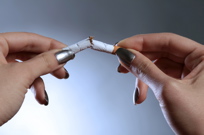 If you've just been diagnosed with heart disease, consider thanking your lucky stars. "Being diagnosed may be the most positive thing about heart disease," suggests cardiologist, Matthew DeVane, M.D., director of cardiac-disease prevention with Cardiovascular Consultants Group. "You are one of the lucky ones who has been given a chance to get better." According to DeVane, with the right steps you can reverse the disease. He offers this advice:

- Put together a vision of what a heart healthy lifestyle looks like and with the help of your doctor, set goals that will help you get there. Look at every component—weight, diet, exercise, medications, etc.—and create 3-, 6- and 12-month health goals.

- Pencil exercise and other priorities into your daily calendar.

- Closely monitor how often you eat out, food portions and the labels of what you buy.

- Manage stress in whatever way you can. Start by getting enough exercise and sleep.

- You simply can no longer smoke. Period. Smoking is the most damaging thing to your arteries.

Read more expert tips and advice on managing heart disease.
Please feel free to forward this message to any friends you think will need it.
Posted: 1/9/10