A Truly Inspiring Story of Change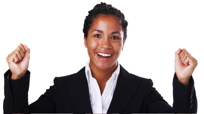 Walking away from a job or a living situation to follow your dreams can seem terrifying until you consider the alternative—a life of unhappiness and unfulfilled dreams. Former lawyer, Wani Manly, simply reached a point where living in survival mode was no longer an option. "I was beyond miserable," she recalls. "I decided that…2010 would be the year I would turn my life around."

Tired of pretending that all was well while not having the life that she imagined, Manly gave up her contract legal assignments to pursue her heart's inspiration: working for the UN and other non-governmental organizations. Almost immediately, doors began to open, and she knew intuitively that she had done the right thing. "Not only did I land on my feet," she says of her leap of faith, "but I'm proud to say that today, I've grown wings and have begun to soar."

Manly says that her blog, "Coming our of Survival," came to her one night in January as her life's purpose. Through sharing her own experiences of transformation, she hopes to help others transform their lives as well.

Read more about Wani Manly in our Profiles of Change gallery.
Posted: 8/23/10