What Were You Born to Do?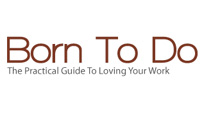 How often have you asked yourself "what was I born to do?" Maybe this is a question that excites you or strikes fear in you. Having been through a major career transition myself, I know from my own experience how difficult change can be when you can't quite figure out what you really want to do.

The folks at Three Giant Leaps have been helping people answer this question for years through their unique programs. Discovering work that is aligned with your deepest values, passions and purpose is the best way to ensure you love what you do and fully invest yourself in your work and career.

Laurel Donnellan, President and Co-Founder of Three Giant Leaps has just released a book called Born To Do – The Practical Guide To Loving Your Work. This practical book uses exercises from Three Giant Leaps executive programs and combines them with real-life case studies of people who have successfully made major career changes.
Check out my video interview with Laurel about her new book.
Posted: 6/30/10