How to Live without Money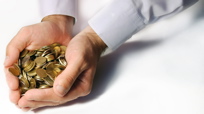 As the current economy forces us to question what we're capable of without money, Sky Sheridan, founder of the conscious Ad-venture, Called2Create, encourages us to consider what we're really worth. "In a world where value is measured and quantified in dollar signs, where does the value of life fit in?" he asks. Is money "thwarting our ability to discover our own true value?"

Sheridan envisions a future that thrives on a new kind of personal prosperity—one based not on profit, but on compassion, cooperation and caring. He invites you to join him in this vision:

- Begin to invest in your true value, your inner power. It holds the key to the endless prosperity of the creative loving force that lives within us all.

- Start to appreciate all the abundance of family, friends, beauty, health, creativity, freedom, opportunity, connection and joy in your life right now. These are more valuable than that piece of paper in your wallet. And they certainly bring more joy.

"Once we put the planet and people first," says Sheridan, "then we will truly have made a worthy profit."

Read Sky Sheridan's entire blog post.
Posted: 4/13/10