A Powerful Program to Beat Depression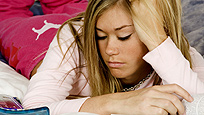 One of the best ways to beat depression is to change the running dialog in your head. "When it comes to any personal challenges, there are two essential components," says Joseph Luciani, Ph.D., author of Self-Coaching: The Powerful Program to Beat Anxiety & Depression. "What you tell yourself and what you believe."

Luciani suggests thinking of it like an equation: What you tell yourself plus what you believe equals what you become. The goal is to keep the equation positive, not negative. "If you tell yourself, 'I can,' but you believe you can't, then you won't," he points out.

To start changing your inner dialog, Luciani suggests reciting these three truths:

1. No one can rescue me but me.
2. I can accept responsibility for change.
3. I have a choice regarding what I feel.

When you feel discouraged or overridden by negative thoughts, take charge and be assertive. Remember, you are the only one who can control that critical voice in your head. (Of course, in the case of severe depression, consult a professional.)

To receive 30 FREE daily tips on Dealing with Depression, go here and click the Yes button.

Posted: 2/20/10