Inside Out Weight Loss: My Change Nation Interview with Renee Stevens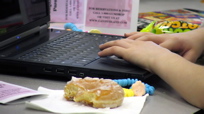 If you want to lose weight and keep it off, you need to teach yourself how to be naturally slender. That's according to hypnotherapist and life coach, Renee Stevens, host of the popular podcast, Inside Out Weight Loss. "[Being naturally slender] is moving your time horizon for making decisions about what to eat," says Stevens.

She gives the example of walking into a Mexican restaurant and wanting the super grande deluxe burrito with guacamole, sour cream, cheese and all the rest of it. "You think, 'oh, yeah. I want that right now because it's going to feel good in my mouth.' But really, how long is that burrito going to be with you?" she asks. "How are you going to feel after 3 hours?"

Stevens suggests shifting your focus to think about how food will make you feel over time. "If you think about three minutes versus 300 minutes, and you say, 'well, gosh, I'd rather feel good for 300 minutes," it changes the whole perspective," she explains. "Now we're looking at a pleasure-based way of eating that allows you to be naturally slender."

Listen to my entire Change Nation interview with Renee Stevens.
Posted: 1/29/10