The Change Specialist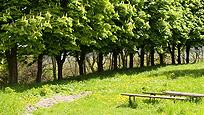 If you feel that you are a victim to change and aren't adapting with it, go spend time with the change specialist—Nature—and let her strip away your layers of anxiety and uncertainty. That's the advice of game ranger, Tom Imrie, with whom I've spent many magnificent hours during my time in South Africa working on my next book.

Tom's advice comes from spending eight hours a day leading guests on excursions through the African bush with native and former cattle herder, Jeremiah Hambana, whom he describes as the most rural person he has ever met.

"Nature has imparted on this friend of mine, some of her best secrets," says Tom, noting Jeremiah's uncanny ability to predict the weather based on a bird's nesting patterns. "His closeness with nature has enabled him to cope with the changes in his life that would have the rest of us in a flat terrifying spin."

In nature, we feel a rhythm that's both timeless and new. We see that change is the secret mechanism for renewal.

Read Tom's entire blog post on The Change Specialist.
Do me a favor. If you liked his post, please comment on it. He lives in the middle of the bush and getting a few dozen comments from people the other side of the world who appreciate or were moved/touched by what he wrote would really be special to him.
Posted: 1/27/10