Balancing Your Dreams and Reality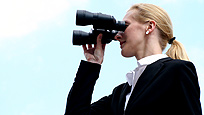 You can still go after your dream, even if you're already doing other things with your life. Debra Shigley, author of The Go-Getter Girl's Guide: Get What You Want in Work and Life (and Look Great While You're at It), started brainstorming about writing a book while attending law school at night and working as a fashion editor during the day, neither of which she wanted as a long-term career. "Part of how I came to writing my book was my own searching," she remembers. Now, she's teaching other women how to get what they want.

For the book, Shigley interviewed dozens of women who were going after their dreams while balancing all areas of their lives. She wanted readers to feel connected with other women and to see that it is possible. "I think a lot of times, [it helps] to see someone whom you admire," she notes.

Most importantly, don't forget about your health. Often, as we go after our dreams, we let this important aspect of our lives slide. According to Shigley, A Go-Getter Girl finds a healthy eating-and-fitness plan that works for her and sticks with it!

Listen to my entire Change Nation interview with Debra Shigley here.
Posted: 9/18/09