My Most Important Change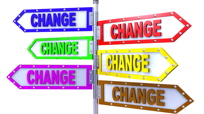 The most important change that I've ever made is to walk more of a spiritually driven path than a financially driven one—or a crazy, material, New York path. In a recent interview with Sandy Grason of the LA talk-radio show, "The Road to Fabulous," I said I feel I'm more being guided than I am controlling what's next for me.

That's one of the nine principles that I've discovered are common to people who are good at change. They believe in something bigger than themselves and can find safety in that spiritual foundation. It doesn't mean that people can't have money if they're living spiritually. The spiritual part lies in the intention behind what they do. Many people look for safety outside of themselves—in money, in work or in relationships—but all of these things are guaranteed to change. They wonder, where can I find safety now? So the cycle continues.

My spirituality is always there. It never changes, except to grow stronger. Finding safety in this side of myself has given me the strength and the courage to handle whatever life sends my way. It is, without a doubt, the most important change I have ever made.

You can listen to my entire interview with Sandy Grason here.
Please feel free to forward this email to any of your friends you think may need its information right now.
Posted: 9/19/09