Success and the Woodpecker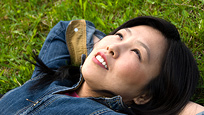 What's the secret to success? Or to being an entrepreneur? Or to pursuing and reaching your goal? I've come to answer all of these questions the same way: Be a woodpecker!

Those tiny birds never doubt that they have the strength and determination to get through even the largest trees. Day after day, the woodpecker gets up and pecks away at the same tree—its goal, dream or business. Its beak hurts, and some days, the bird wonders why he took on such a big tree—goal. The other birds and animals wonder, too. Still, the bird keeps pecking away, until one day…

… that big tree falls. All because of one more small peck—action.

So, pick a tree—a dream—and stick to it. Start pecking away and don't worry about what anyone else says. And remember, your tree can fall at any time.

To read my entire blog post on this topic, click here.
Posted: 7/4/09