Trainer to the Stars: My Interview With Gregory Joujon-Roche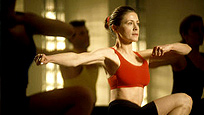 Look better on the beach, faster, with this advice from Brad Pitt's trainer, Gregory Joujon-Roche. Greg is a friend and just so incredibly passionate about helping people be healthier. "Eat well and do cardio and commit to both." Nothing new there. From Greg's experience, simplicity equals success.

"Just focus on eating super clean," advises Joujon-Roche, "no crazy dressings, no salts, and add fiber." He also recommends plenty of good fats, like those found in seeds, almonds, avocados, fish and olive oil, as well as lean, low-stress protein. ("Low stress" means it enters and leaves the body quickly.) No red meat if possible.

His exercise recommendation is equally simple: sustained cardio. "You've got to keep your heart rate [up] and don't run out of breath. You may not think you're still working, but you are," he says. "Stay in that realm for 60 minutes. Change it up and don't spend all your time on the same machine. Spending 20 minutes each on three machines is much better. Sweat, Sweat, Sweat. Drink, Drink, Drink—water, that is." If you have a leg/ab routine, do it BEFORE your cardio.

Also check out his fat-burning lemonade. I've used it and it works!

To listen to my entire interview with Gregory Joujon-Roche, click here.
Posted: 7/3/09