Teen Tips: Music and Moods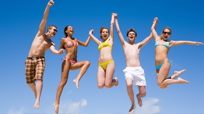 Music is one of the best mood shifters. Put together some snazzy playlists, such as Feel Confident, Feel Sexy or Feel Great About Life, and play them whenever you need a boost.

That was just one of the nuggets I shared with a group of teenagers I spoke to recently. Actually, I was surprised at how many of the advice I gave still applies to me at age 36! Maybe we could all use a refresher course:

If you don't have high expectations for teachers, classes, parents, boyfriends/girlfriends, etc., whatever happens is a bonus. Being disappointed by unmet expectations is what hurts the most.
Compare and Despair. The minute you compare yourself, you're setting yourself up to get depressed.
Write down three accomplishments that you're incredibly proud of. When you're feeling down, remember, you're the person who got them done!
Someone else in the world would do anything for your life, school, friends and clothes… even on your worst day.
Do the thing that scares you. Nothing feels better than being courageous.

For my blog post on 20 tips to share with your teen or a friend, go to this page on our site.
Posted: 7/21/09