Best Job-Hunting Tips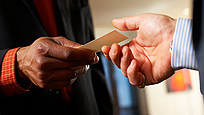 To ensure a successful job hunt in this market, you'll need to go the extra mile. Follow these tips from my recent Reader's Digest article:

- Pull all your contacts and catalogue any loose business cards. You never know. Something may spark an idea. Send an email to your contacts.

- Get some blank business cards made with your name, email and contact information and carry them with you.

- There are strict deadlines for Cobra and health insurance. To avoid a lapse in coverage, make sure you're aware of these. Too many people miss them.

- Send a thank-you note to your former boss and the colleagues you enjoyed working with, and ask them to keep you in mind if they hear of any positions you'll be right for.

- Write down what you are looking for and what your intention is. Make your list. Read it every day. Intention is a very strong force.

For more job-hunting secrets, click here.
Please feel free to forward this email to any of your friends you think may need its information right now.
Posted: 6/8/09