How to Meditate Even When You Don't Have Time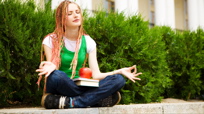 Many people avoid meditation because they think it will up take too much of their time. But you can meditate in as little as five seconds. "Whether you're a mother with three kids or a busy executive, there are moments where you can start to create an oasis of calm in the middle of your real world, your real life," says executive meditation coach, Mark Thornton, author of Meditation in a New York Minute: Super Calm for the Super Busy.

Commuting to and from work, eating a meal, showering or standing at the water cooler are all perfect opportunities to practice. "The technique that I like to use is to simply slow the inhale down to a count of three, pause for one, then exhale for the count of three and pause for one and then just repeat the sequence," says Thornton. "I always do it before I make a presentation or when I stand in a boardroom."

To read more spiritual advice from Mark Thornton, go here.
Please feel free to forward this email to any of your friends you think may need its information right now.
Posted: 6/7/09