No More Excuses!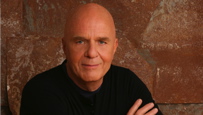 Wayne Dyer is a personal friend and incredible teacher. Many of you have read one of his 30 best-selling books or seen him on public television. I had the wonderful privilege of seeing him in his home in Maui last year as he was finishing up his latest book, Excuses Begone.
I have to say, everyday, I hear his words in my head now. What's the excuse that you keep giving yourself? What's holding you back? What's bigger than this excuse now?
Wayne has a set of questions that will help anyone unravel the dominant excuse you feel and get you to start making that change you want. His book is now out and accompanied by dozens of incredible gifts, teachings, videos. You can spend hours here.
Wayne remains one of my go-to mentors and teachers. He is a gift to all of us.
Posted: 6/20/09