How Strong Is Your Change Muscle?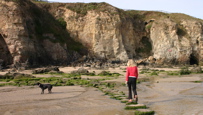 In the midst of a difficult transition, remember, you've already proven how good you are at change. Each of us is born with a "change muscle"—that will to survive, to adapt and to feel good. Whenever you face a change and move through it, that's your change muscle in action. It gets stronger, and you get better at change, every time you use it.

To see how strong your change muscle is, spend about 10 minutes writing down all the changes you've been through, good and bad, from childhood through adulthood. This is what I call your "change resume." Can you see how many changes you've already gotten through successfully? With all that accumulated strength and experience, you most definitely have it in you to get through any change life sends your way, even this one.

You can learn more about your change muscle in my book, The First 30 Days: Your Guide to Making Any Change Easier.
Posted: 6/21/09