What People Who Reach Their Goals Have in Common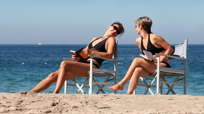 If you want to make sure you reach your next goal, be gentler, not harder, on yourself. Many people think that setting high expectations with crazy deadlines will keep them ultra-motivated, but as I shared in a coaching call for Deborah Battersby's Abundant Life Creator's Coaching Club, the opposite is often true. People who are too hard on themselves tend to give up before they reach their goal.

To keep your change motivation strong, be gentle with yourself. Give yourself permission not to be right all the time. Know that there will be days when things don't work out. Most importantly, don't be afraid to expose your vulnerabilities. Letting others see your fears, doubts and sadness will deepen your connections and strengthen the support around you.

Ultimately, the more human you become, the more your life starts changing for the better.

To hear the rest of my coaching call with Deborah Battersby, click here.
Please feel free to forward this email to any of your friends you think may need its information right now.
Posted: 6/13/09