Change and the Chicken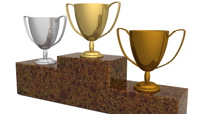 If you walk into a restaurant and say, "I want chicken," the waiter may have no idea what you want. Your request is too vague. You need to be specific about the chicken dish you want.

In the same way, if there's something in your life you'd like to change, you need to be specific about it. Ask for or visualize exactly what you want, so that unlike the waiter, you'll know how to move forward.

Let's say you'd like to find a relationship. What type of person can you see yourself with? Where will you go to meet new people? Or, if your goal is to lose weight, how much will you lose and by when? What diet and exercise changes will you make?

Be specific about what kind of change you want. The clearer you are about what you're after and how you'll get there, the better your chances of success.

To read my entire blog post on this topic, click here.
Please feel free to forward this email to any of your friends you think may need its information right now.
Posted: 6/14/09