Is Your Bad Mood Depression?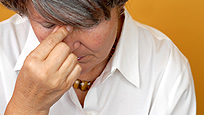 If you don't know whether you're experiencing a low mood or an actual bout of depression, ask yourself what you're unhappy about. "We all experience feelings of sadness, but depression is very different," says psychologist, Joseph Luciani, Ph.D., author of Self-Coaching: The Powerful Program to Beat Anxiety & Depression. "The person with clinical depression finds that there is not always a logical reason for his or her dark feelings."

If everything "seems" fine, but you're still sad a lot, consider talking to someone, especially if you're experiencing other common symptoms, such as sleep disturbances, irritability and hopelessness.

Talking to a health-care professional doesn't necessarily lead to medication. There are plenty of successful alternative treatments, such as cognitive-behavioral therapy (CBT), a talk therapy which aims to change negative thought patterns. The key is to seek treatment as soon as possible, since symptoms tend to worsen over time.

For more on dealing with depression, click here.
Posted: 5/9/09