Top Ways to Take Charge in Today's Job Market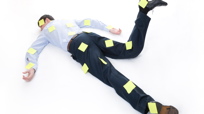 Whether you've just graduated college or you've recently been laid off, jumping on the "no-job-market" bandwagon only makes you part of the problem. Rather than agreeing with everyone on how bad it is out there, focus on what you can do. Here are two suggestions from my recent momlogic.com article:
1. Stop trying to figure out what you want to do for the rest of your life right now. Look for something you want to do, even if it's only for a few months or a year, then see what happens.

2. Use your spare time to take a class or read about something they don't teach at school—right-brain skills like self-empowerment, letting go of negativity, public speaking or becoming an entrepreneur. Learning these skills will help your coping skills and make you a more valuable employee.

For eight more tips on handling today's job market, click here.
If you think this email tip can help others, please forward it to them now. It's amazing what one small tip can do to make a difference! Take a minute to ask yourself, who could use this specific tip right now?
Posted: 5/28/09