My Interview with Relationship Experts, Gay and Kathlyn Hendricks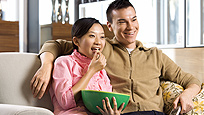 Don't just dream about being that happy couple down the road. Be that couple! In a recent interview with relationship experts, Gay and Kathlyn Hendricks, this husband-and-wife team shared firsthand advice on building and nurturing a loving, mutually fulfilling relationship:

- Spend some time together each day without actually doing anything. For example, try meditating together.

- Say positive things to one another, including expressing your appreciation. According to Gay, one marital study reports that thriving relationships have at least a 5:1 ratio of positive-to-negative comments.

- Don't clutter up your time together with day-to-day stuff like finances or renovation plans. Set up "business" meetings a couple of times a week and discuss everything then.

- Stop blaming the other person and instead, take responsibility for your part in a situation. Gay and Kathlyn agree that this is one of the most transformational things you can do for your relationship.

For more relationship advice from Gay and Kathlyn Hendricks, listen to my entire Change Nation interview here.
Posted: 5/29/09