Run, Don't Walk, from Self-Conscious to Self-Confident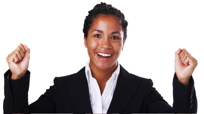 Throughout our lives, parents and other powerful influences remind us not to worry about what other people think. But eliminating self-consciousness is easier said than done. Here are three surefire ways to boost your self-confidence:

1. Play a game with yourself. Act as if you don't want or need anyone's approval. Tell yourself there's no chance of winning it, so there's no point even trying. Ironically, the more you seek approval from others, the less likely you are to get it.

2. Always have a purpose. For example, before attending a social event, determine something you're trying to accomplish, such as, meeting new business contacts or finding a reliable contractor. Focusing on a goal keeps your attention on something other than you.

3. Highlight—don't downplay—your unique abilities, appearance and attitude. Ultimately, the more comfortable you are in your own skin, the more people will respect you and gravitate towards you.

Share these tricks with your kids, too.
Posted: 5/27/09