The Best Way to Remember Your Favorite Mom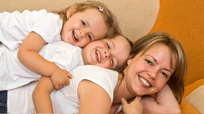 Whether you've already purchased fancy Mother's Day presents or you're scrambling around for last-minute options, nothing compares to a gift from the heart. Today, shower the Moms in your life with the greatest gift possible—appreciation.

Grab a pen and paper, find a quiet space and make a list of all the qualities that make your Mom, your wife or some other Mom in your life a great Mother. Make it as gushy… "You lift me up when I am low…" as practical… "You're great at doing laundry…" or as funny… "You never leave the house in those 80s jeans…" as you want.

Sometime today, read her this list. Or roll it up and tie it with ribbon, certificate style, for a card that beats the pre-made variety any day. However you present it, she'll be touched beyond words by your heartfelt gift.
Posted: 5/10/09