Make Your Workout More Effective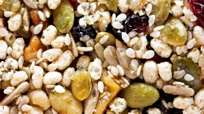 You'll have a more effective workout and burn more calories if you eat something first. Bob Harper, fitness trainer from NBC's hit show, The Biggest Loser, and author of Are You Ready!: To Take Charge, Lose Weight, Get in Shape, and Change Your Life Forever, says the idea that you should work out on an empty stomach is a myth.

Have 100-200 calories of something healthful before you go to the gym. "You could have a tablespoon of peanut butter on an apple," suggests Harper, "[or] a handful of nuts or any kind of fruit." He also recommends energy bars—not for the energy part, but for the protein and carbs.

It's hard to have an effective workout when you show up at the gym tired and sluggish. "You should be acting that way when you go home," Harper laughs. "Not when you walk in."

For more fitness advice from Bob Harper, click here and to hear his Change Nation interview, click here.
Posted: 4/8/09