Power Your Way Through Change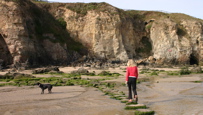 If you want to make a change in your life, it all starts with the right mindset. There's a big difference between being interested in changing and committing to taking the steps to make that change.

Being interested means sticking to what's convenient, what's comfortable and what's practical and easy. In other words, there isn't a whole lot of energy involved.

Commitment, on the other hand, is full of power. It's about going out of your comfort zone, doing whatever it takes and giving it time. When you commit, you see things as a MUST—not a should-be-nice, a would-be-nice or even a maybe.

Today, take your intention to a whole new level and commit to making that important change. With the power of this positive conviction behind you, there's nothing you can't do!

To read my entire blog post on interest vs. commitment, click here.
Posted: 4/6/09