Going Green Deliciously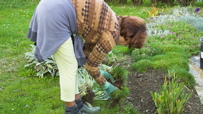 If you want to go green, but aren't quite sure how to get from awareness to action, try growing some of your own food. James Glave, author of Almost Green: How I Saved One-Sixth of a Billionth of the Planet, suggests that unlike switching to different light bulbs, which is a bit abstract, growing food offers actual rewards.

"There's nothing more rewarding than seeing something tangible that you grew yourself, that you can then serve and eat yourself," says Glave. It doesn't have to be a huge undertaking—a few pots of lettuce greens on your apartment balcony are enough to reap the benefits. "It starts you along that path to questioning your choices and seeing where you can make a difference," he says.

For more of James Glave's advice on going green, listen to his entire Change Nation interview here.
Posted: 4/17/09