The Most Valuable Lessons for Getting Through Change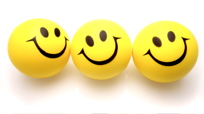 Guys, if you're going through a change right now—or ladies, if a man in your life is in the middle of a big transition—pick up the May 2009 issue of Best Life magazine and read my great new article on change, "The Change Manual." In it, seven men discuss how my change principles have helped them get through transitions in their lives.

Learn how to tap into your strengths through self-assessment, neutralize negative emotions, move quickly and decisively through transitions, make decisions using your internal compass and other strategies for making change easier.

Knowing how to navigate change successfully is one of the most important skills you can have in life. Armed with your own inner strength and the wisdom of those who have walked in similar paths, rest assured, you can get through any change life sends your way. These guys did it—now so can you.
Posted: 4/18/09