On Pursuing Your Dream Job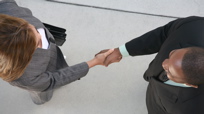 Here are three ways to pursue your dream job while you maintain your current income.

1. Network actively with everyone you know and don't be afraid to reach out to the people you don't know. This is an effective way to inquire about company cultures, job openings and new initiatives that excite you. Just be careful not to tip off your boss or employer.
2. Invest in yourself via workshops, tuition-reimbursement options at work, free classes and so on.
3. Keep an updated cover letter, resume and bio. Doing this is necessary and cathartic, too. It will make you feel good and better prepared for any job that may get your attention. But make sure you don't leave these documents on your screen at work!

For more advice on changing careers, read the article here.
Posted: 4/1/09