Top Strategies for Investing Your Money Now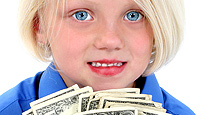 There's a way to avoid taxes on money-market accounts and preserve your original investment while earning interest: Put your money in a triple tax-free, money-market account. These funds, which invest in the municipal bonds of a single state, are exempt from federal, state, and local taxes. (Double tax-free means exempt from state and federal taxes. Both are referred to as state tax-free funds.) To find out if triple tax-free funds are offered in your state, contact a mutual-fund company such as Vanguard or Fidelity.
In a recent interview on Change Nation, my weekly podcast, former World Bank president, James Wolfensohn, offered his advice on investing right now. "For the average person…I would be buying safety," advises Wolfensohn, "This is a moment to be safe, to preserve assets, not rush out to buy." In other words, put your money in a savings account. As long as the bank is a member of the FDIC, you can't lose your deposits—provided they don't go above the coverage limit, typically $250,000. (To find out if your bank is a member of the FDIC, call 1-877-ASK-FDIC.) Other safe options include money-market accounts, CDs and treasuries.

Listen to the rest of my interview with James Wolfensohn on Change Nation.
Posted: 4/2/09