Clothes on a Budget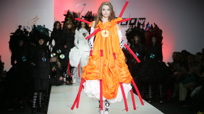 You're on a tight budget, so you buy clothes at stores where paying full-price is totally reasonable. And why not? You aren't in middle school anymore—no one actually cares what you wear or where you buy it.

The question is, are you really saving in the long run?

Cheaper items are typically made of lesser quality fabrics with even lesser quality stitching and piecing. Meaning they probably won't hold up long, especially after repeated washings.

If an item does last, most likely you haven't worn it much, because it went out of style.
Stores with lower price points tend to carry trendier fashions—or at least, what they think is trendy—in an attempt to emulate higher-priced retailers.

When shopping on a budget, trade multiple bargain pieces for one better-quality item. Clothing that's made well tends to hang better on you and last a lot longer than cheaper items. Also, stick to timeless pieces that won't go out of style quickly. Classic quality definitely beats yesterday's knockoffs.
Posted: 3/31/09