To Mow Me Is to Love Me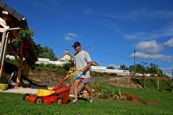 Spring, glorious, spring. Hear the birds chirping. Smell those warm, flower-blossom breezes. See the lawn waiting to be mowed.

Sorry, didn't mean to ruin your reverie.

If you aren't a huge lawn enthusiast, leave all those fancy fertilizers and treatments for everyone else. But the one lawn-care step you shouldn't skip in spring is raking to remove thatch—the layer of dead stuff between the grass and the soil. And don't say you just raked in the fall—that's no excuse. Plenty of dead grass collects over the winter.

Once mowing season does start:

- Mow in the evening, not in the hot sun. It puts less stress on your grass.
- Avoid mowing when the lawn's wet—you risk introducing disease.
- Mow in a different direction each time to avoid forming ruts.
- Mow frequently to stimulate lush, green growth.
- Keep your mower blade sharp for a clean cut, promoting better grass health.

Leave the rest to Mother Nature. Or your local lawn-care professional.
Posted: 3/30/09