Working Together, Rebuilding Trust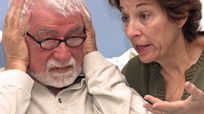 "Pack your bags! It is so over." But, wait. You still have a relationship.

Infidelity is one of the most painful things that can happen in a relationship, but remember, divorce isn't your only option. There are plenty of people who manage to bring their marriage back from the brink of disaster. Michele Weiner-Davis, marriage therapist and best-selling author of Divorce-Busting, says that couples who are most successful share some common patterns:

Working Together: Both partners need to commit to working hard and not expect immediate results.

Rebuilding Trust: The unfaithful partner has to "come clean" and end the other relationship entirely. He or she should listen lovingly to the feelings of the betrayed spouse while demonstrating sincere (and unlimited) regret and remorse.

Reflecting on the Relationship: Spouses need to look closely at why the affair happened in the first place and what can prevent it from happening again. They should also do things together—other than talking about the affair—to help rebuild the relationship.

Forgiving: Ultimately, the betrayed spouse needs to make the conscious decision to forgive the unfaithful partner. With enough time and an open heart, loving again is possible.
Posted: 3/29/09