We Are What We Eat, and So Are the Cows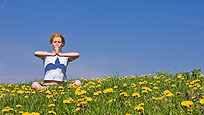 We know, you're tired of hearing about a healthier this or that. It usually means more cash out of your pocket. But before you dismiss grass-fed beef, consider the fact that cows are what they eat.

Most beef comes from feed-lot cows raised on a corn-based diet, despite the fact that nature intended them to eat grass. Why? Because corn is cheaper and gives the beef that desirable, marbled texture. Eating a grain-based diet makes them sick, but no worries—the feed lots counter this and other health risks with various medications and antibiotics. The resulting manure is so toxic, even the farmers don't want it.

Considering what feed-lot beef might have in it, and more importantly, what grass-fed beef does—more nutrients, including two to six times more Omega-3s—isn't it worth the extra bucks? It actually tastes better, too.

Note: "Grass-fed" can be misleading if it's used to refer to the limited grazing all cows do early in life. "Grass-finished" means grass, the whole grass and nothing but the grass.
Posted: 3/14/09