What's For Dinner?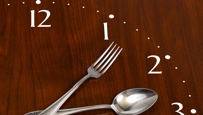 Let's see, what should we make for dinner…nope, don't have any of those…nope, none of that either. Looks like it's frozen dinners and a glass of mil—er, soda again.

Whether you're trying to drop a few pounds or give up high-fructose corn syrup (HFCS), eating right means not winging it. Create a menu, so you'll know what you're making and have everything you need in the house ahead of time.

Print out a blank meal planner page from this page, put it in a clear sheet protector (or laminate it) and get some dry-erase markers. With your diet book or list of food restrictions in hand, write down a dinner menu for each night of the upcoming week, including beverages, side dishes, desserts and so on. Depending on your diet, do the same for breakfast and lunch. Now make your grocery list, including any snack items, and it's off to the store you go.

With a menu and good food choices in the house, sticking to your diet is a piece of cake.

Alrighty, fruit then.
Posted: 2/23/09