How to Survive a New Year's Resolution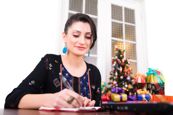 The problem with New Year's resolutions is that we constantly set ourselves up for disappointment. Revamp old, mammoth resolutions into smaller, more doable goals and enjoy the sweet smell of success. Here are some suggestions:

Old Resolution: Join a Gym. You're spending a lot of money on something you may never use.
Anti-Resolution: Workout Wherever You Are. Take a walk after dinner. Do some crunches during commercials. Get a yoga DVD. Baby-steps are better than none at all.

Old Resolution: Pay Off Debt. It takes more than a resolution to pay down significant debt.
Anti-Resolution: Use Less Credit. Stick to cash or your debit card, knowing that your debt burden is decreasing.

Old Resolution: Spend More Time with Loved Ones. Being with your family 24-7 is enough to drive anyone a little nuts.
Anti-Resolution: Emphasize Quality, Not Quantity. Be present, and it won't matter whether you've got 20 minutes or two weeks. Relationships improve when you simply listen.

Read our entire New Year's resolution survival guide.
Posted: 12/26/09