Sing and Laugh Your Way to a Slimmer Waistline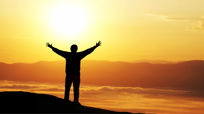 If you want to lose weight, get in harmony with your inner self and find the joy in life. "People eat and eat because they're unaware of their inner spirit and power, so they feed the emptiness," suggests renowned spiritual teacher and author, Carmen Grenier. "Your physical body won't want as much food if you start feeding your soul and your unmet needs."

Instead of following the next diet craze, Grenier suggests doing whatever it takes to feel a sense of joy in your life. For example, sing and laugh. "These are two sacred toys of the heavens and a way to deprogram negative thoughts," she says. "Both are more effective than any diet."

According to Grenier, when you get rid of negative emotion—regrets, unexpressed communication, guilt, fear and anger—addictions to food go away, too. "Put your thoughts on a diet," she advises.

Read more advice on healthy living from Carmen Grenier.
Posted: 11/22/09