Clear the Clutter and Find Your Life: My Change Nation Interview with Gail Blanke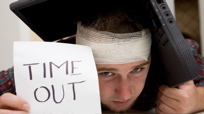 Getting organized is less about getting rid of stuff and more about deciding who you want to be today. "The aim is not to be tidy and well-organized," says organization expert, Gail Blanke, best-selling author of Throw Out 50 Things: Clear the Clutter and Find Your Life, "but to be free." Freeing yourself from the things that weigh you down and make you feel bad is what allows you to move forward.

Blanke tells the story of one woman whose medicine cabinet was full of old medications from previous serious illnesses. When she asked her why she was holding on to them, the woman replied, "Well, I may have that problem again." So Blake rephrased the question: "What's your intention? To have [the illness], or not to have it?" The woman had an epiphany and threw them away.

Blake reminds us "in the end, it's 'who are you now?'" Put simply, decide who you want to be and clear out anything that doesn't match that intention.

Listen to my entire Change Nation interview with Gail Blanke.
Posted: 11/20/09