Bring Your Brain to Life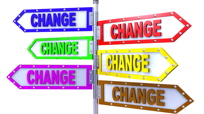 Life begins at the end of your comfort zone—Neale Donald Walsch
If you want to give your brain a boost, try something new. Most of us tend to stay in our comfort zone. We wear the same clothes, eat the same foods and do the same things. Familiar is easy. And yet, stepping out of this comfort zone is what allows us to grow. Our brains thrive on stimulation, lighting up with energy and enthusiasm at new experiences.

Trying something new may feel uncomfortable at first, but real growth happens when you move through this discomfort and are willing to stay with it awhile. Resist the urge to go back to what's easy and instead, do something to make the new experience a little better tomorrow or the next time. Stay with it long enough, and what's uncomfortable now will eventually become easy.

A new experience doesn't have to be 100% positive. It's the process, not the result, that gives your brain the boost it craves. Today try something new and let novelty literally bring you to life.

Read my entire list of favorite quotes here.
Posted: 11/18/09