Don't Waste a Good Crisis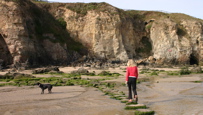 When faced with a crisis, we tend to go into survival mode—doing whatever it takes to get through it—or denial. But according to best-selling author and motivational speaker, Mike Robbins, neither reaction is ideal. To maximize personal growth, healing and transformation during a crisis (or any time), Robbins recommends practicing the following:

1. Be real. The more we honestly and passionately acknowledge what's happening and how we feel about it, the more likely we are to move through it consciously and gain the life-altering lessons the situation has to offer.

2. Lean on others. Asking for and receiving support from others not only helps us get through "tough" times, but it also allows us to make meaningful and intimate connections with the people in our lives.

3. Let go. Crises remind us that everything in our physical world is temporary and transitory. Letting go frees us up in a powerful way, allowing us to move through the situation more easily.

Read all three of Mike Robbins' blog posts: "Don't Waste a Good Crisis," "Get Honest Feedback" and "It's Okay to Do It Wrong."
Posted: 10/14/09