Just LOL-ing Around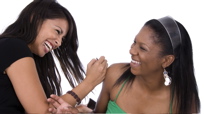 And the number one reason not to miss Late Night with David Letterman, Saturday Night Live, the Daily Show or some other favorite, side-splitting show is…

LOL (a.k.a., laughing out loud).

A recent study at Indiana State University shows that when you laugh out loud, you inhale deeply, temporarily increasing your heart and breathing rates. As these levels go back to normal, your blood pressure falls, muscles relax, stress levels drop, and your immune function improves. Which just goes to show you, laughter really is the best medicine.

For those of you who can't stay awake past 9:00PM, don't worry, you can still have some good laughs. Record your favorite late night show to watch at your convenience, watch online or tune into some good sitcom reruns earlier in the day, like Seinfeld, Friends or the Simpsons. Or try some older classics like All in the Family, I Love Lucy or the Honeymooners.

A good laugh—and the resulting good health—never goes out of style.
Posted: 1/16/09