Plant a Family Tree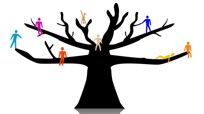 You know Ma's your biological mom—you're her spitting image. And Pa's definitely your Pa—that profile is all the proof you need. So how did you wind up with such a fabulous sense of humor when they have, er, none whatsoever?

Maybe it's one of those sex-linked traits that skips a generation.

If you've ever sat and wondered, "Where did I come from?" try tracing your ancestry. There are loads of web sites and software programs out there to get you started, such as Ancestry.com.

The research can be fairly time-consuming, so you might want to do some delegating, or at least let the relatives know what you're doing. Most likely, once you plant the seed, other family members will jump in and help. You could even make it a family tradition to get together annually and share what you've learned.
Posted: 1/15/09